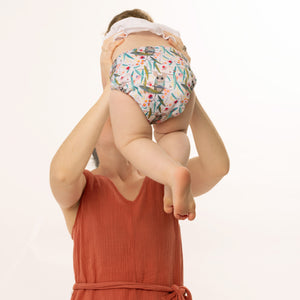 Townsville Reusable Rebate
Claim 50% back on reusable nappies and cloth nappy accessories.
Townsville Reusable Rebate
Purchase any Modern Cloth Nappies, Reusable Swim Nappies, Bamboo Nappy Liners, Reusable Breast Pads or Wet Bags and claim 50% back through the Townsville.
Reusable Rebate Scheme.
Eligible households can apply for 50% off the purchase price on reusables products up to a maximum rebate of $100.
Which Reusables Can You Claim
Households can apply for 50% off the purchase price on the following reusable
products:
Cloth Nappies
Swim Nappies
Reusable Nappy Liners
Reusable Nursing Pads
Wet Bags
SHOP REUSABLES
Cloth Nappy and Reusables Accessories
How to claim the Townsville Reusable Rebate
The Townsville Council is aiming to help its residence to reduce waste
ending up in landfill, reduce greenhouse gas emission and save money by using
reusable products.
Simply purchase any cloth nappies, reusable swim nappies, cloth nappy
liners, reusable breast pads or wet bags before 30 June 2023 and complete the online application.
You will need the following supporting documentation:
- Proof of purchase or receipt of eligible reusable products.
- Proof of residency in the Townsville City Council Local Government Area.
Once your application has been approved you will receive a digital Visa Card that can be used to spend online or at any store.
Please note that only 50% off the purchase price of the reusable items can be claimed, any shipping cost are not redeemable.
★★★★★

Fantastic nappies!

Recently received 2 of the MCNs and I am so happy with them!
The fit is great on my chubby-thighed 13 month old. He is a very heavy wetter but these MCNs rarely leak. The double gusset holds even the biggest poonami! The natural fibres in the inserts mean he hasn't had any nasty nappy rash with these MCNs.
I have been so impressed that the inserts have retained their shape and softness through multiple hot washes, unlike other MCN inserts I have.
Overall, a fantastic nappy in terms of fit, absorbency, patterns and quality.

Anna Sagar
★★★★★

Our order arrived very quickly and was really nicely presented. Our daughter is 4 months old and almost 7kg and the medium swim nappy seems to fit her well with plenty of room to grow. It looks great too! Looking forward to more swims throughout summer.

Laura
★★★★★

Gorgeous

Very soft bamboo inner to protect nipple. PUL means bras don't get wet even when pad is sopping wet. Range of colours and cute bag to store.

Mary Smith
★★★★★

Large double pocket rainbow wet bag

Our order arrived very quickly in a compostable bag and was beautifully packaged. The large wet bag has a lovely colourful pattern and 2 zippable pockets which is really handy for keeping wet and dry swimmers/nappies separate. This will be a really useful and multi-purpose bag throughout the upcoming summer. Highly recommended!

Laura